La tortue rouge
Michael Dudok de Wit, France, Japan, 2016
o
A castaway fights his way through the stormy ocean. He is stranded on a deserted island where only birds and some curious little crabs live. The man builds a raft. But he doesn't manage to go out to sea with it. It takes a while until he finds out what mysterious power prevents him from leaving the island: A majestic red turtle.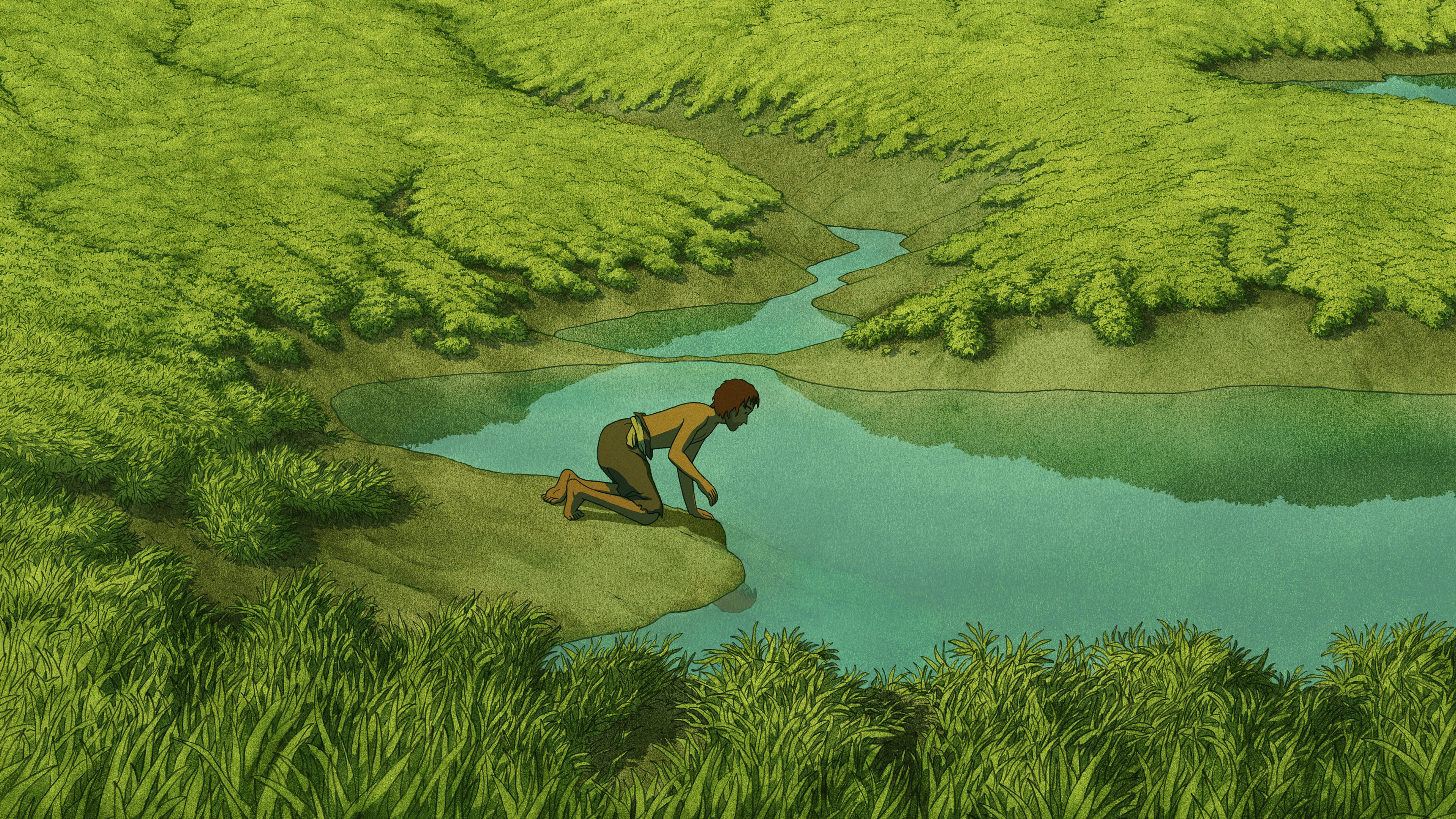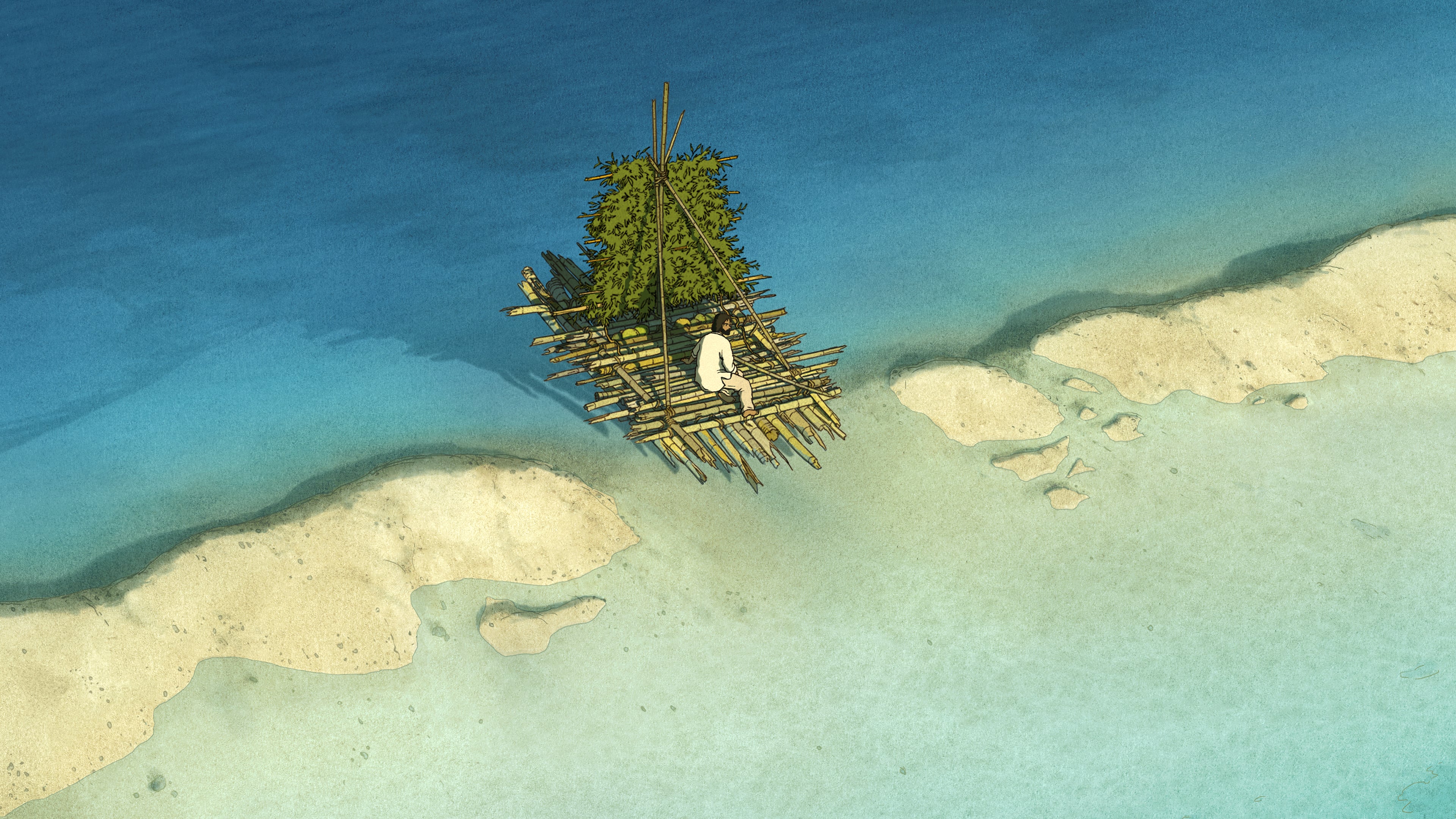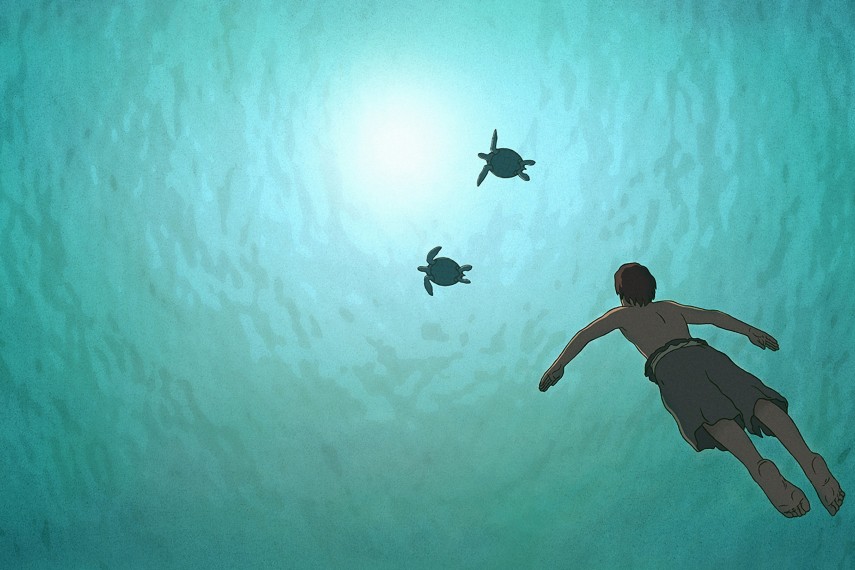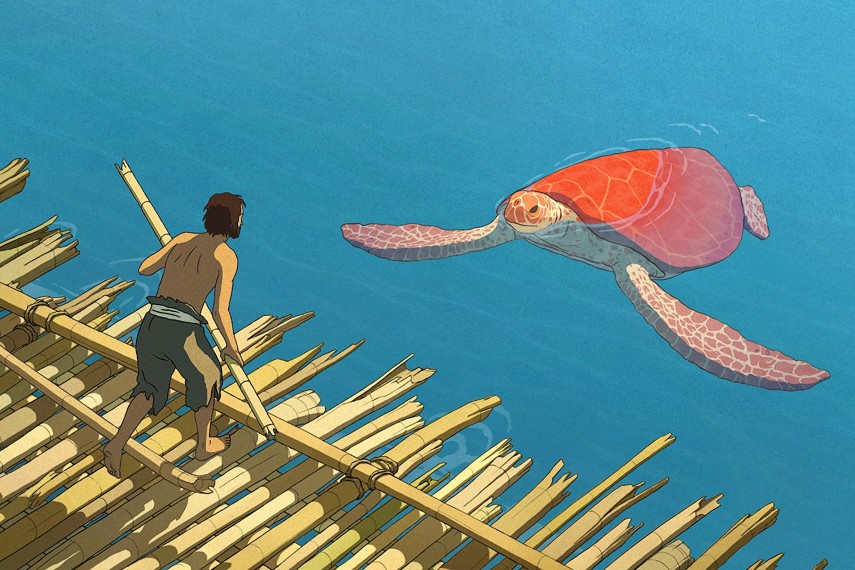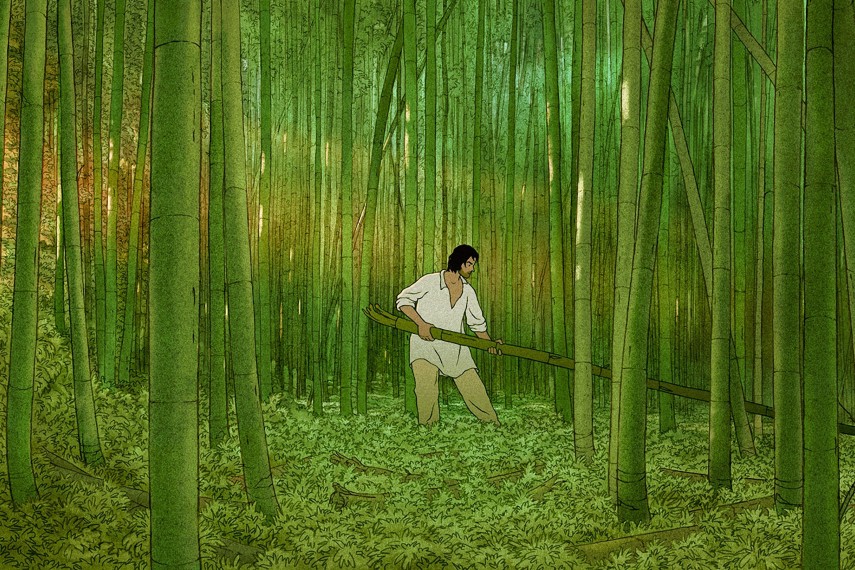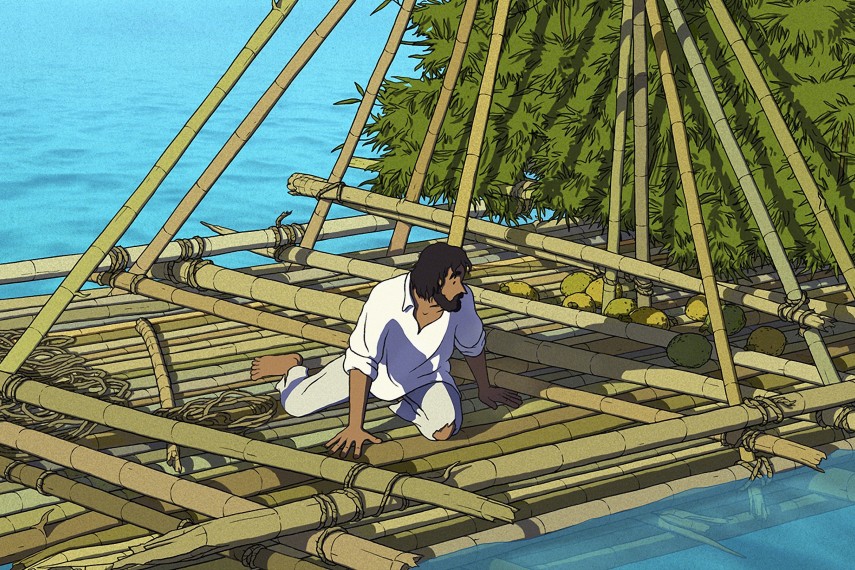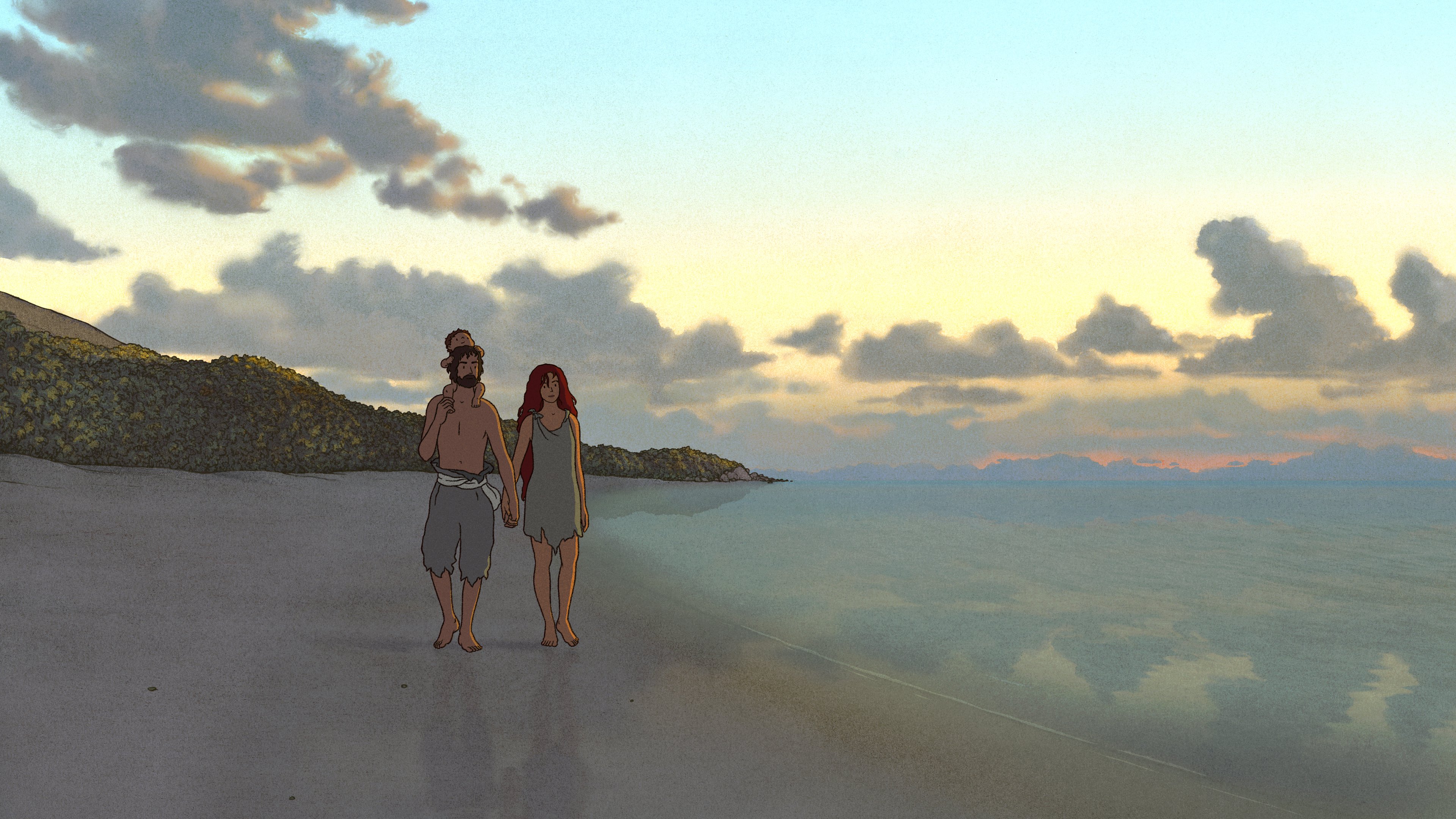 The New York Times, 1/18/2017
3/17/2017
Unter den großen Verführungskünstlern der Filmgeschichte hat die Schildkröte bislang eine eher untergeordnete Rolle gespielt. Das ändert sich nun mit dem Animationsfilm "Die rote Schildkröte", in der ein besonders majestätisches Exemplar eine zunächst ganz klassische Robinson-Crusoe-Geschichte durch eine erotische Intervention auf den Kopf stellt.
Zu Beginn strandet ein Schiffbrüchiger auf einer einsamen Insel, und während er Avocados pflückt und darüber nachdenkt, wie er dort wieder wegkommen soll, wächst ihm ein stattlicher Bart. Dann zimmert er sich ein Floß. Doch kaum ist er ein paar Hundert Meter draußen auf dem Ozean, wird sein Fluchtvehikel von einer gigantischen Schildkröte gerammt, die Baumstämme brechen auseinander und treiben davon. Der Mann schwimmt zurück, baut ein neues Floß, paddelt erneut aufs Meer hinaus – und wieder gibt es einen lauten Krach, als die rote Schildkröte von unten kommt. Aber wie sich bald herausstellt, sind diese Angriffe kein Zeichen der Aggression, sondern der Zuneigung, denn was sich liebt, das neckt sich.
Durch einen Unfall wird das große Tier an den Strand gespült und droht unter der Sonnenhitze zu vertrocknen. Der Mann begießt es wieder und wieder mit Wasser – und plötzlich kommt unter dem Panzer eine schöne Frau mit langen roten Haaren hervorgekrochen.
Die Geschichte ist das Spielfilmdebüt des niederländischen Regisseurs Michael Dudok de Wit, der für seine kurzen Animationsfilme schon zweimal für den Oscar nominiert war, für "Father and Daughter" gewann er ihn auch im Jahr 2001. Dadurch wurden die Macher des berühmten japanischen Trick-Studios Ghibli auf ihn aufmerksam, die sonst sehr traditionsbewusst sind und fast nur in der Heimat Aufträge vergeben. Aber die Japaner waren so begeistert, dass sie für "Die rote Schildkröte" ihre erste Koproduktion auf die Beine stellten und dem 63-Jährigen alle Freiheiten ließen – die Produktion dauerte fast ein Jahrzehnt. Herausgekommen ist ein Trickfilm ganz ohne Pixar-Hektik und Disney-Überdruck, handgezeichnet und ohne Dialoge. Ein Film ohne Geschnatter und Gesang, da wird aus jedem Atemzug der magischen Schildkröte ein dramaturgisches Stilmittel.
Spiegel Online, 3/16/2017
Interview du réalisateur Michael Dudok De Wit
Interview mit Michael Dudok de Wit und Toshio Suzuki
Video Essay: Verfeinerter Minimalismus
Interview with Director Michael Dudok de Wit
Movie Data
o
Original language
Without Dialog
Important Awards
Oscar 2017: Best Animated Feature Film (Nominated)
Bonus
o
Interview du réalisateur Michael Dudok De Wit
Interview mit Michael Dudok de Wit und Toshio Suzuki
Video Essay: Verfeinerter Minimalismus
Interview with Director Michael Dudok de Wit
Review The New York Times
Review Süddeutsche Zeitung
Interview mit Regisseur Michael Dudok de Wit